The controversial photo of Filippa Hamilton by Ralph Lauren
I am late to this party, but just had to weigh in on this controversy.
I've always been a huge fan of Ralph Lauren's beautiful, understated, classic designs. I've bought his clothing for years. So to say that I was appalled by his Art Department's aggressive Photoshopping (Photochopping?) of a picture of Filippa Hamilton, and then learning that the company fired her in April of 2009 for being too fat, is a gross understatement.
Filippa is 23 years old, 5 feet 10 inches, and 120 pounds...a size 4. She had worked as a model for Ralph Lauren for 8 years. 8 years! And out of the blue Filippa was given the news that she was too large for Lauren's clothes. Huh?
Here is the Photoshopped pic of Filippa Hamilton that raised the ire of millions:
And here is how Filippa really looks: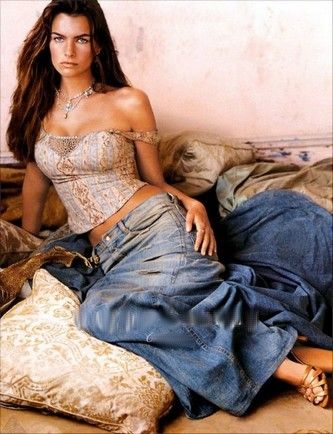 Michael K @ Dlisted said it best:
"Ralph Lauren Fired This Model For Being A Fatty Fat Fatty
You might have already seen the ridiculous Ralph Lauren ad on the left which was Photoshopped by a cross-eyed chihuahua who has a bad case of ADD and a strange fascination with tree branches. After everyone cried "outrage" over the pic, Ralph Lauren issued some half-assed apology saying they take full responsibility...blah..blah...blah. The model in the picture, Filippa Hamilton, doesn't actually look like that in real life. Filippa's head is actually bigger than her hips. Nuts, I know.
At 5'10" and 120lbs, Filippa is pretty svelte, but she still isn't skinny enough for Ralph Lauren. On the Today show this morning, Filippa said Ralph Lauren sent her to the guillotine, because she didn't look like she might fall over if you a blew a kiss at her.
Filippa said, "They fired me because they said I was overweight and I couldn't fit in their clothes anymore. I'm very proud of what I look like, and I think a role model should look healthy." ...
Ralph Lauren confirmed to the NYDN that they pink-slipped Filippa "as a result of her inability to meet the obligations under her contract with us."
Maybe this has something to do with the recession. Maybe the brains at Ralph Lauren think that since people can't buy food, we will all look like malnourished praying (for food) mantises. Not only that, why pay Filippa when they can pull some random kid off the street and give them a couple of Skittles to draw the next Ralph Lauren ad..."
Lauren's apology about the Filippa Hamilton fiasco fell flat when a few days later another photo appeared in a shop in Sydney, Australia featuring model Valentina Zelyaeva. Her body in the photo had been trimmed via the wonders of Photoshop: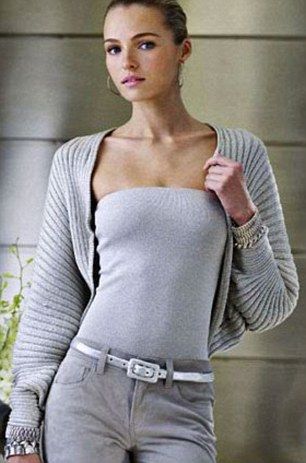 To hear Filippa talking about her firing by Ralph Lauren on the Today Show, watch this video:
This article in the Daily Mail is also a good read:
A word of advice to Lauren's Art Department: Take some anatomy lessons...STAT.

Links:

http://dlisted.com/node/34359
http://www.boingboing.net/2009/10/06/the-criticism-that-r.html
http://www.msnbc.msn.com/id/33307721/ns/today-today_fashion_and_beauty/
Follow on Buzz