Buzzybee, a member of LCF, found the Lady in the Red Dress tonight on a Russian Brides website! Congrats to buzzybee!!! I'm SO happy you found her. Having been searching those websites for countless days and nights, like so many others (esp. the LCF members), I swear if I see one more picture of a Russian bride, I'm going to scream.

Anyone following the story of Heidi Diaz (aka Kimmer) and Kimkins knows that the Lady in the Red Dress was on the Kimkins website as Heidi's/Kimmer's "after" picture. Well, imagine!!!It turns out she is actually Lesya of Tver, Russia.


Here is buzzybee's post on LCF:

Okay I know I have not posted before but I have been following from the
beginning and had some time to spare.

LOOKY what I found in less than 10 minutes!!!LOL!!!

Ladies and Gentlemen I present "Lesya"

AKA: RED DRESS KIMMER!!!!
Russian Brides seeking foreign men- Russian dating brides
profiles



Hopefully this hasn't been posted before....my heart stopped when that picture came up on my screen!!LOL!!




There are TWO pictures of her!!!




And here's a copy of the page on Lesya from the Russian Brides website:
Lesya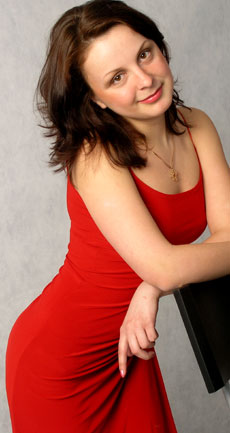 Ladies
ID 16077
Age 27, birthday 05/26/1980
Height 5'4 '' (163cm)
Weight 115 Lbs (52 kg)
Hair color Brunette
Eye color Hazel
Smoke Non-Smoker
Drink Non-Drinker
Occupation Sales
Education University
Marital status Single
English spoken basic
Religion Christian
Children None
Plans children Yes
Residence Tver, Russia
Photos: 1
2
Interests / Hobbies:




I like reading very much and I like traveling. I like to discover new places and people.I enjoy spending my time with close people.



My personality:
I'm energetic and active. I consider myself to be rather romantic. I am attentive to the things and people I am surrounded by.

What partnerI'm looking for:
I wish my husband to be communicative, open, attentive and loving. I want to have that special man in my life with whom I will feel comfortable wherever we go.

Personal horoscope for Lesya from Tver, Russia
Lesya was born under the sign of Gemini The Gemini female is fun to be around. She is the symbol of a modern, intelligent woman. She possesses first-rate mental capabilities and has a light touch. Women born under the sign of Gemini enjoy social interaction and are most often the life of the party. They are easy to approach and are very outgoing and friendly. They are almost always looked upon favorably by others and though the Aries woman always views the world in a unique way, she does not try to push her opinions on others. As a partner, the Gemini woman is always exciting and makes and ideal career wife. Lesya demonstrates her affection for others and is impulsive. She is fun loving and generous in displays of her love. She is considerate of others and always takes their feelings into consideration. She is always there to lend a helping hand. The Gemini woman tends to work hard to achieve her goals. Lesya is lovable, provocative, charming and witty. They symbol of the twins express this woman's desire to become complete by finding her other half – namely her soul mate. Use * to e-mail Lesya from Tver, Russia..."



LINK TO BUZZYBEE'S POST (#1104) ON LCF:


http://www.lowcarbfriends.com/bbs/kimkins/519337-why-fascination-kimmer-6-a-37.html





Follow on Buzz